Ref:
Date:
Location:
Photographer:
Ref:
Date:
Location:
Photographer:
Exhibitions
Download a guide to exhibiting with MKSA
EXHIBITING WITH MKSA
MKSA has a permanent (long term) exhibition at Camphill Cafe, Japonica Lane, MK15 9JY. The cafe is open Monday-Friday 10.30am-4pm. Sale of paintings helps to raise funds for the Camphill Charity. The exhibition is changed every 4 months.
We have a second permanent exhibition at the Sherwood Gallery, Challenge House, Sherwood Drive, Bletchley, MK3 6DP. The sale of paintings helps raise funds for Hearing Dogs for the Deaf. The cafe on the premises is open Monday-Friday 7.30am-3pm. The exhibition changes every 4 months.
Our Summer Exhibition in 2018 was held at the Ellen Pettit Memorial Hall, High Street, Woburn Sands, MK17 8RH over the August Bank Holiday. Saturday Aug 25th 10am-4pm, Sunday Aug 26th 10am-4pm, Monday Aug 27th 10am-3pm. We hope to hold a similar exhibition in 2019 once we have found a suitable venue.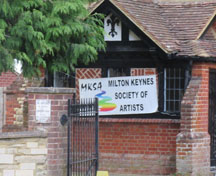 Every two years we hold an exhibition at Stony Stratford to coincide with Open Gardens. The venue is Swinfen Harris Hall, London Road. MK11 1JA. The next one will be in 2019, 22-23 June.